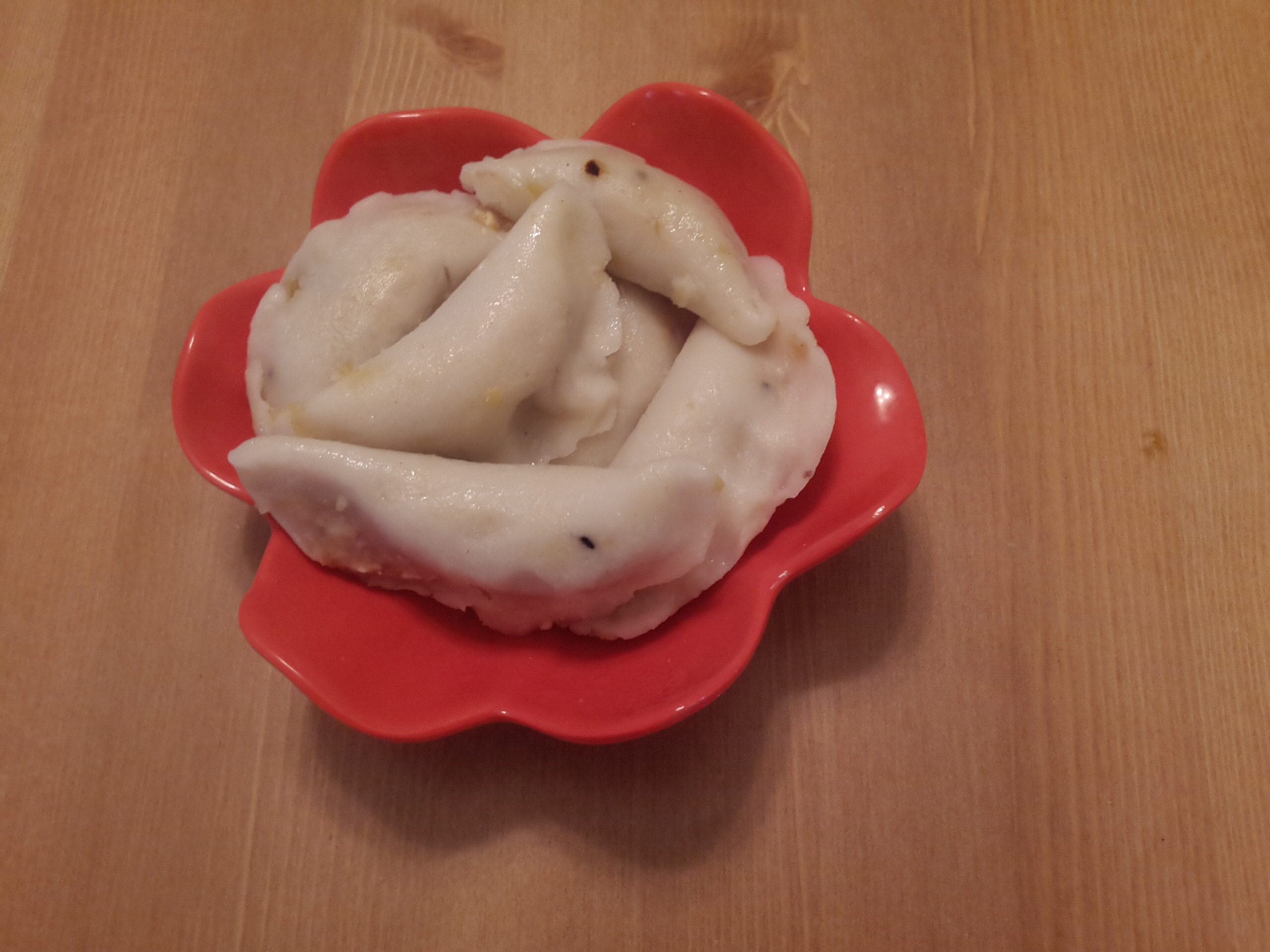 Kandhullo
Kandhullo is a south indian sweet made of rice paste, and usually prepared during festive seasons. This recipe is from Sourashtra Community, other regions might call it with slightly different name, like Kolakkattai or Modhagam.
Ingredients
1

Cup

Rice Flour (150 ml)

3

Unit

 Jaggeries

1

teaspoon

cardamom powder

1

tablespoon

black sesame seeds

1

cup

channa daal

2

tablespoon

ghee

500

ml

water

1

tablespoon

grated coconut
Instructions
Keep a cooker pan with sufficient water (400 ml) over a flame on the stove and boil the chana dal for 10 minutes. When the time is up, transfer the boiled chana dal to a strainer and allow to cool.

After cooling the dal, transfer the dal to a big plate for mixing.

Place a small fry-pan (Kadai) over the stove and heat it for a couple of minutes.

Put the sesame seeds into the fry-pan. Fry the sesame seeds for 2 minutes and pour the fried sesame seeds over the chana dal in the big plate.

Break the jaggery into pieces, grind it to granules with a mixie/grinder.

Mix the jaggery granules with the chana dal, sesame in the plate and add the cardamom powder, grated coconut into it and mix well to make a nice paste. This paste will be used as a stuff for kandhullo.

Make the chana dal paste into small gooseberry size doughs and keep them in a medium bowl for this recipe.

Take the rice flour in a big bowl , add some little water to make a poori paste for the preparation of poori. Keep the poori paste for one hour in the bowl.

After one hour, take the paste and make it into 10 or 12 gooseberry sizes and keep in a plate.

For making poori , spread one gooseberry size rice paste over the aluminium foil to make a round circle on the foil, by hand or roller.

Then place chana dal paste in the middle of poori paste and close the poori paste by hand. Make multiple pieces with this process.

Place a steam vessel or idli vessel with the required water for steam boiling over the stove in high flame. Apply the ghee in a thin layer over the steam vessel plate full round.

Keep the kandhullos on the plate and place the plate inside the steam vessel for steam boiling for 5-10 minutes.

After boiling the kandhullos, transfer them from the steam vessel to a big bowl and mix with little ghee in the big bowl for garnishing. Now the kandhullos are ready to serve. Transfer the kandhullos into a serving bowl and serve it as a delicious sweet.